Let's talk about the SD-WAN Managed Solution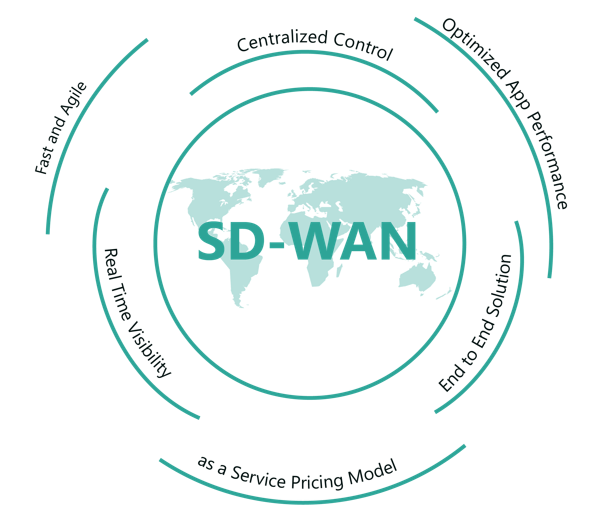 Software-Defined – Wide Area Network (WAN) is a solution that uses a Software Defined Network (SDN) technology that is applied to a company's WAN infrastructure. With SDN technology, network device functions are implemented in software, which allows them to run on the same hardware device. The control function of SD-WAN solutions is cloud-based so that the configuration can be adjusted via the cloud as needed. That way this solution is cheaper than the previous WAN technology devices such as routers, firewalls, switches, etc.
SD-WAN Managed Solutions includes
MPLS solution with internet backup link
The reliability of the inter-branch network can be increased by using a public internet network which is cheaper, thus increasing the service uptime.
WAN security via the internet
With SD-WAN, it is possible to connect WAN between branches through the cheaper internet network, but with the same level of security as a private network such as MPLS.
Merging multiple links into one unit
SD-WAN can combine several links into a single unit, thereby increasing the reliability and quality of network access. Merging MPLS with the internet or two internet links to two different ISPs.
Zero Touch Provisioning
SD-WAN allows a fast provisioning process, due to the ZTP feature. The device will be sent to the location, and the installation is done by simply connecting the device to the network, the rest will run automatically.
SD-WAN components
In general, there are 3 components of the SD-WAN infrastructure, namely, SD-WAN Manager / Controller, Hub, and Spoke. The controller is in the cloud system, the Hub is the connection destination of Spoke, and the Spoke is a device that is placed in a branch office location.
Managed SD-WAN & Network Integration
Our service is Managed Service, so you don't need to buy SD-WAN devices. We work with partners of Telecommunication Operators and Internet Service Providers (ISPs) so that our solutions can be integrated with MPLS and Internet services.
The benefits and benefits of Managed SD-WAN include
Cheaper Costs
SD-WAN is software-based so that network device functions can be integrated into one piece of hardware.
Easy and fast installation
With the Zero Touch Provisioning (ZTP) feature, the installation and provisioning process can be done quickly and easily because they are controlled via the cloud.
Reliable
The ability to combine various types of communication media channels, such as mpls, internet, and even wireless connections such as 4G, makes SD-WAN more reliable than previous traditional devices.
Secure
Advanced SD-WAN products can not only perform routing functions but also serve as firewalls and even Next-Generation Firewalls (NG-FW) which have advanced security features to maintain network security.
Flexible
SD-WAN is easy to operate and flexible in application. Functions are defined using the software, so any changes can be made quickly and easily.