Technology drives holiday shopping for retail, e-commerce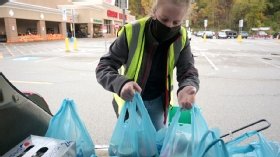 People came back to retail stores for Black Friday holiday shopping this year, with foot traffic up 48% compared with 2020, when not-yet-vaccinated shoppers kept their distance and bought gifts online.
That's the good news. The bad news for retailers is that foot traffic on Black Friday was still down 28% from pre-pandemic years, according to measurements of 40 billion global store visits by Sensormatic Solutions traffic monitoring and loss prevention technology. However, the traffic numbers from Labor Day to the Wednesday before Thanksgiving were closer to 2019 levels, said Brian Field, senior director of global retail consulting at Sensormatic Solutions.
"[The drop on Black Friday] was not unexpected for me," Field said. "Shoppers were telling us they wanted to stay a little bit away from crowds."
E-commerce merchants held on to last year's massive gains. This year's Black Friday data from Adobe shows web sales slightly down ($8.9 billion in 2020, compared with $9 billion in 2020), but it's because consumers started their Black Friday shopping early and spread it more evenly through the month of November. Results of a Sensormatic survey of 2,000 U.S. and Canadian consumers suggested that some even started their holiday shopping as early as September.
Adobe predicts that, overall, holiday shopping will be up 5% to 15% this year compared with last.
Salesforce said e-commerce activity on its users' sites also ticked up slightly (increasing 5% in the U.S. and 2% globally). At its sites, luxury handbags, footwear and furniture sales saw gains of 47%, 40% and 27%, respectively.
Technology a factor in growth
Many factors influence the retail and digital sales growth right now, said Jordan Jewell, an analyst at IDC. On the positive side of the ledger, inflation makes numbers bigger than they otherwise would have been. Consumers got used to the convenience of online ordering during 2020 and liked it, which continues to drive sales. COVID-19 worries held down travel and gave consumers more disposable income. Either new or upgraded web shopping and payment technologies also reduce hurdles to sales, which is why both online and physical stores invested in them.
Supply chain difficulties also influence where holiday shopping happens. Some consumers want to make sure something is available before putting down their credit cards or tapping Apple Pay. Consumers want to see an item is in stock either on a local retailer's website or in person at the store.
On the negative side of the ledger, also influencing holiday shopping trends is the general decline of physical retail — and steady growth of e-commerce — that was already under way prior to 2020. That makes it hard to attribute holiday shopping trends to one cause or technology. Then consider the emerging omicron COVID-19 variant that may keep some people away from shopping centers, moving forward.
"It's kind of hard to look through the noise," Jewell said. "There are forces [pulling sales revenues] in both directions."
Improved technologies, such as personalization that gets consumers excited — for example, digital coupons that entice a customer into a store or to click on a website or mobile-app offer — may have had a hand in keeping digital and retail sales going through the pandemic. That, and data systems that support curbside pickup and buy online, pickup in store options take the friction out of sales and help retailers enable the experiences their customers want.
Mobile app usage shows room for growth, Jewell said. People browse e-commerce sites on their devices and more frequently buy than they used to, but the desktop is still where a majority of the buying takes place.
The technology is getting better, or at least more accessible.


Jordan JewellAnalyst, IDC

"The technology is getting better, or at least more accessible," Jewell said. "This is stuff digital commerce analysts have been talking about for years. COVID-19 accelerated it."
Jewell said that more than that, though, changes in business models deep below the technology layers may eventually prove to be drivers of more revenue through digital channels. Things like payment plans and digital marketplaces where sellers can set up their own stores — the old guard of Amazon, Walmart, Alibaba and eBay are getting competition from smaller upstarts such as Mirakl and VTEX — also are helping expand e-commerce.
Don Fluckinger covers enterprise content management, CRM, marketing automation, e-commerce, customer service and enabling technologies for TechTarget.